Unprecedented affordable, open-source, and modular robotics make science accessible for everybody, so the next discovery can come from any lab
Brooklyn, NY, May 22, 2023 — Opentrons, a leader in lab automation, announces the launch of its Opentrons Flex robot, a new generation of affordable and easy-to-program liquid-handling lab robots designed to level the playing field for labs of all sizes and bring advanced lab automation to more researchers than ever before. Fusing advanced robotics with a deep ecosystem of open-source software, the Flex is compatible with AI tools and has near-limitless potential to learn new protocols. The new product builds on the momentum the company has with customers including the Mayo Clinic, Harvard, and MIT.
Opentrons' mission is to empower scientists to get more lab work done the way they want. While legacy laboratory robotics require extensive software knowledge and months of training, the Flex's open-source design and accessible API make it attractive to scientists across the life sciences, especially those advancing generative AI. The Flex was designed to be compatible with "design-of-experiment" programs, including AI-driven agents. And as more scientists contribute applications to the platform, the Flex's open-source nature enables Opentrons to better train its AI algorithms to enable even more seamless automation, making life science more reproducible and adaptable to labs around the world.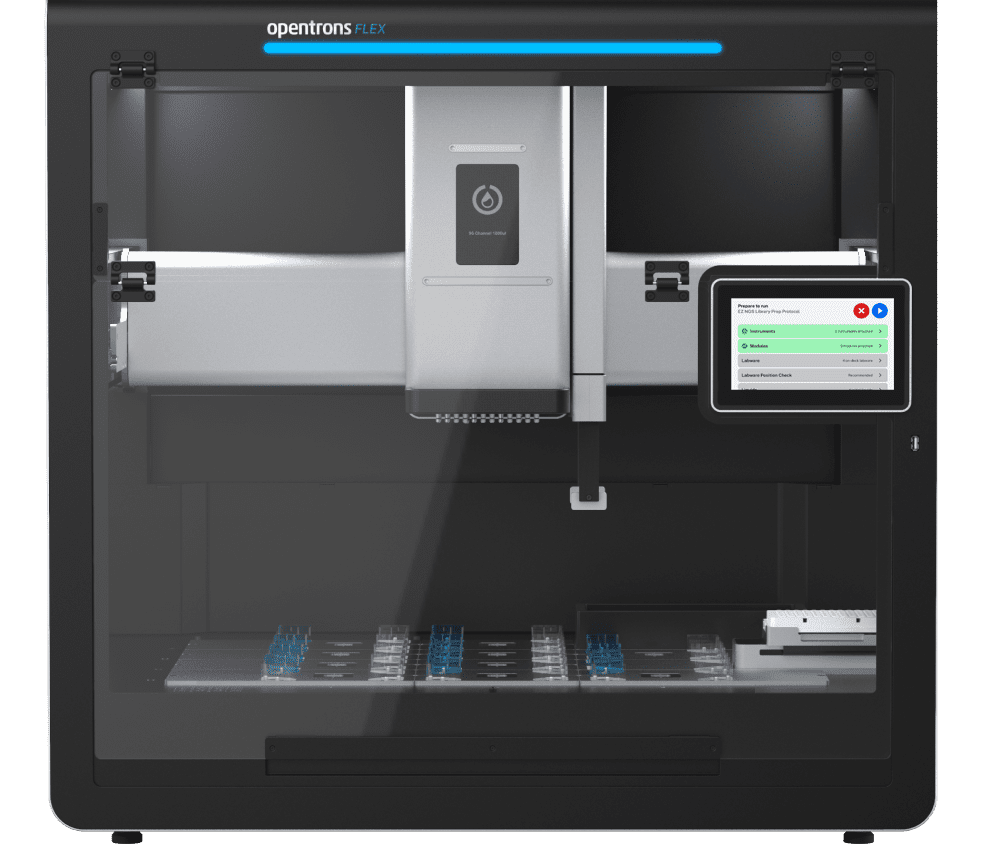 "For far too long, scientists have been constrained by their laboratory tools – a problem that cumbersome and expensive traditional automation tools have yet to solve affordably and efficiently," Jon Brennan-Badal, CEO of Opentrons said. "By making lab automation as easy as using a smartphone, the Flex robot democratizes access to automation in life sciences research."
"The U.S. Department of Energy's Argonne National Laboratory has purchased several OT-2s over the past couple of years, which have been a main component of our self-driving lab development. We have been impressed by Opentrons's engineering transparency, open-source philosophy, and how the OT-2 is easily customizable," said Casey Stone, a computer scientist and bioinformatician at Argonne. "We look forward to seeing what the new Opentrons Flex has to offer in terms of more robust liquid handling capabilities and increased throughput."
"At Khosla Ventures, we invest early in ideas that are bold and impactful," said Vinod Khosla, founder of Khosla Ventures which has invested in Opentrons since inception. "With Flex, we're moving toward inverting the current one robot to ten bench scientists ratio to ten robots to one bench scientist vision for throughput in research labs."
The Flex robot stands apart from legacy lab automation solutions with profound differentiators:
A fraction of rivals' cost: With a total cost of ownership just 1/10th of its competitors, the Flex robot enables labs to extend their budgets 10 times further, making advanced automation accessible to more researchers.
Days vs. weeks: The Flex robot can be quickly set up or reconfigured for a new application, in a fraction of the time typically required, allowing scientists to devote more time to their research.
Self-learning capabilities: Completely open access to Opentrons' library of over 500 community and verified protocols. Offering an unparalleled range of options, the Flex can be used out-of-the-box or customized to create novel experiments using generative AI tools.
The user-friendly Flex robot adapts to experiments thanks to modular hardware and powerful software tools that simplify lab automation, reduce errors, and make transformative, reproducible research possible across the life sciences industry, and for the field of molecular biology in particular. At launch, the Flex will have several flagship configurations built with genomics and proteomics workflows in mind.
"The integration of the Opentrons OT-2 has revolutionized the manner in which we carry out experiments in our lab," said Jonathan Sexton, University of Michigan Assistant Professor of Internal Medicine, Medical School, and Assistant Professor of Medicinal Chemistry, College of Pharmacy. "With the OT-2, we were able to incorporate automation into our workflow within a week and at a cost of only a few thousand dollars and the open-source software platform allows us to get creative with the platform and solve new problems. I am eagerly anticipating the potential for further enhancements in our lab's efficiency and flexibility through the use of the Flex."
Opentrons have already achieved significant traction in the scientific community. Its robots have been shipped to more than 40 countries and are key tools in labs around the world looking to automate their molecular biology and biochemistry research. Today, thousands of scientists and institutions, including 70 percent of the top 10 largest pharma companies and 90 percent of the top 50 biology research universities, rely on Opentrons robots in their labs. Opentrons also has OEM partnerships through which customers can leverage its hardware and software stack capabilities.
About Opentrons Flex:
The Opentrons Flex features easily reconfigurable, modular hardware including swappable pipettes ranging from 1 to 96 channels, plate gripper, on-deck thermocycler, heater-shaker, magnetic plate, and more. The Opentrons software ecosystem includes a robust library of more than 500 protocols, plus easy drag-and-drop cloud software to enable you to create protocols for your specific needs. The Flex's modern API allows for near limitless control over the robot as well as enabling seamless integrations to build scalable workflows. The Opentrons Flex NGS Workstation can automate many popular NGS library prep kits, including tagmentation- and fragmentation-based chemistries, with pricing starting below $50,000; the Opentrons Flex Protein Purification workstation can automate magnetic bead-based protein purification workflows, with pricing starting below $40,000; the Opentrons Flex Aliquoting Workstation starts below $20,000. Learn more about Opentrons Flex at opentrons.com.
About Opentrons:
Opentrons Labworks, Inc., a disruptive life science company and the current market leader in entry-level lab automation, accelerates innovation in research and healthcare through its integrated lab platform, which includes business units Opentrons Robotics and Neochromosome. Opentrons has raised over $200 million in funding and achieved unicorn status based on the first- and second-generation robots, OT-One and OT-2. Opentrons Robotics provides thousands of institutions with flexible, easy-to-use lab robots, automating R&D operations and making robotics, a vast open-source library accessible to life sciences researchers worldwide. Neochromosome offers world-class genome-scale cell engineering solutions for biopharma and biotech. Trusted by institutions such as Mayo Clinic, Stanford, Harvard, and MIT, Opentrons is found in thousands of academic, biopharma, synthetic biology and clinical research labs in more than 40 countries. Learn more at https://www.opentronslabworks.com/.
Media Contact